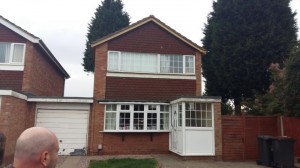 Time to share our progress on this weeks transformation of a house in Nuneaton
This week we are working on a property in Nuneaton. We are replacing all windows and doors but we are starting with fascias, soffits, cladding and guttering. He we will share some before and during pictures . We look forward to seeing the finished job.
With the cold weather around the corner taking a look at your fascias and soffits can prevent any winter leaks or storm damage.
Cladding is also great for weatherproofing as well as changing the look of a property. Give us a call if you have any questions.. we will be happy to help 01455212105
By Gareth Oliver | Added on Wednesday 16 September 2015 | Permalink