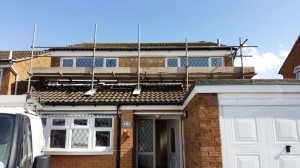 This weeks job in Desford.. keeping us busy !

This is the job that has been keeping us busy this week in Desford. We have fitted new windows, doors and sills. Also the fascias and soffits. Even with the scaffolding still in place it still looks great.
When it comes ro scaffolding don't let the thought of needing it put you off having a job done. We use a local reliable firm who charge reasonable prices and we sort it all for you so there's no extra worry!
By Gareth Oliver | Added on Thursday 27 August 2015 | Permalink