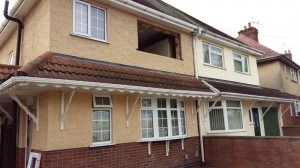 Another house full of windows being replaced this week in Nuneaton
Another one of our jobs to show you. This week we are replacing the windows on this house on Tompkins Road, Nuneaton.
Here's a picture showing our work in progress.. as usual later in the week we will share with you the finished job.
By Gareth Oliver | Added on Wednesday 02 September 2015 | Permalink